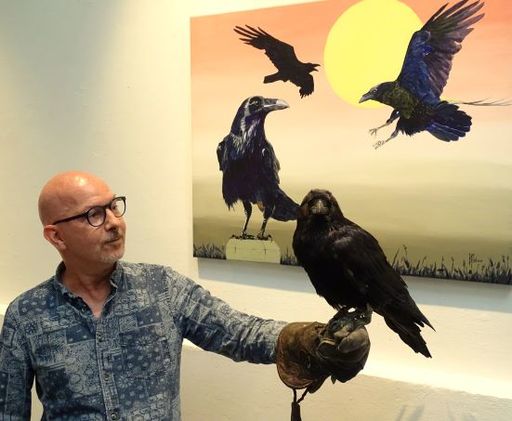 BASTIAAN MOL (1954)
Artist / illustrator based in Rotterdam , Netherlands.
for the paintings : click left under GALERY
comments in the guestbook are appreciated and welcome
BASTIAAN MOL is a Rotterdam based artist/ illustrator in the Netherlands ( 1954 ) . After having painted autodidact from early age on , he went to the Academy of Applied Arts ROGER AVERMAETE in Antwerp during 5 years( 1986-1991) .The direction chosen was Illustration design .Materials he frequently uses are watercolours, pen+ink , gouache, pastels, graphite , and ofcourse acrylics on canvas .Bastiaan Mol sofar refuses the often seen digital paintings. It never comes close to painting with real textures, real paints. All his works are also a one-off : NO copies are made , no prints are sold , it`s just the originals.
From 1978-1995 he lived and worked in Brussels,Antwerp and Frankfurt am Main, before returning to his city of birth Rotterdam.
Subjects in his paintings are varied , but some subjects always keep returning. The male , dressed or undressed , in varied settings and materials. Sometimes combined with animals such as birds. Animals and especially birds are indeed returning subjects too. Hollywood and also music is a great inspiration.
From 2013-2017 Bastiaan Mol painted as much as 44 portraits of Portuguese fado-singers (socalled FADISTAS ).His love and interest for this special musicform brought him often to the Lisbon fadohouses to hear his beloved music live in the appropriate settings.Meanwhile all of the fadoscene in Lisbon knows him well and many of the portrayed fadosingers have become good friends.
Two of the fado portraits he painted are part of the regular exhibition in the museum of the late great fadosinger/composer Alfredo Marceneiro. Grandson Vitor Marceneiro who owns this museum in Lisbon, made him a member of honor of the Associaçâo Alfredo Marceneiro , O Patriarca do Fado. Also a winelabel was designed after one of the fado paintings of Bastiaan Mol.
In 2013 a series of 5 extremly detailed watercolour paintings of Dutch gardenbirds from his hands were noticed by a couple of American birdwatchers , after which the birds flew to San Diego.
September 2018 He took part of a special exhibition in Rotterdam, of which all of the art had only one subject: RAVENS.The exhibition was opened with a live show of birds of pray,but most of all ofcourse the ravens.
From October 4th to October 14th his work was seen in 3 different art exhibitions , held in one large building, as part of the Rotterdam Kunstroute Kralingen 2018.
Having worked over 45 years as a professional tophairstylist and make-up artist in order to make money, his art had to come second place.From July 2016 on , his art is his life and he paints every day.
Bastiaan Mol is a member of the Rotterdam Artists Collective Karmijn.
Heroes are the Symbolists , Pre-Rafaelites , Aubrey Beardsley , Henry Scott Tuke , Alphonse Mucha , William Blake ,Lawrence Alma Tadema, the great illustrators of early 1900.